Well not really – the day was actually really great! We woke up two hours earlier than usual to cinnamon bread and banana french toast in order to get ready for a boat load (literally) of traveling. At 7 sharp, we met our first set of tour guides at the dock and set off for a surprisingly speedy and bumpy ride to Bomba, a village on the mainland.
Once we docked, we loaded onto our next mode of transportation, a not-so-ordinary, multi-colored school bus. We drove for an hour on bumpy dirt roads, passing through the occasional neighborhood and an amazingly large papaya farm. Once we finally hit pavement we found ourselves at our next stop and loaded onto yet another boat, this time traveling up the New River. Excitement quickly filled our small boat when our tour guide pointed out a multitude of "super regional" creatures (Graham, 2014). Although we saw iguanas, native birds, a crocodile, wild horses and cattle, none of us would argue against the fact that the spider monkey took the cake (or rather the banana).
From monkeys to Mayans, our excursion continued after another hour. Once we finally got to our destination in Lamanai, we were greeted with a traditional Belizian cuisine consisting of rice and beans, chicken, and watermelon. Bellies full, our guide led us to the museum and then on our hike around the Mayan ruins. Before we even saw the spectacular structures, we came across the most poisonous and feared snake in Belize, the Fer de Lance (no big deal).
A couple minutes later, once we regained composure, we turned the corner and faced the massive ruins. Besides being surprised at its sheer height, we learned that not even half of it was uncovered. We were actually standing on 4+ more layers of the ruins! Advice for climbing the ruins: Going up is physical, coming down is all psychological. And we were off!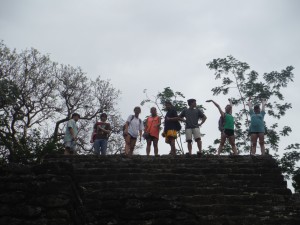 Views from the top were incredible – at one time we were even higher than the surrounding jungle canopy, and we were able to see for miles. We saw a total of three large temples before we made our way back to the gift shops. Needless to say, a few of us splurged on hand-made Belizian gifts and walked away with a variety of souvenirs. We walked back to the dock and cracked open a few bottles of Fanta in preparation for our trip back down the New River. A couple of us even modeled our new purchases.
Once again we were back to the stop where the bus was waiting for us. Fresh coconut was passed around the bus, along with Dill Pickle Pringles, as we traversed the bumpy dirt road on the way back to Bomba. As we walked through the village on our way to our final boat ride, we were once again distracted by the local trinkets. Beautiful bowls and artistic carvings made from redwood and ironwood allowed for one more fun pit-stop.
During the final stretch of travel, we discussed our upcoming research projects. We had a great day exploring the mainland and the Mayan ruins, but tomorrow we buckle back down to business and continue our coral reef adventure!
Love,
Sequoya, Maddy, and Katy (: